I've released version 1.0 of Structure Synth.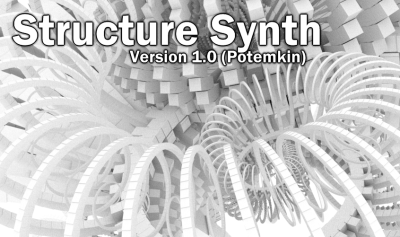 The biggest new feature is the new Template Export GUI, which I described in a previous post. Template Export GUI highlights:
Shows the defined primitives in the template (highlighting used and missing ones).
Integrated XML editor with syntax highlighting for quickly modifying the template.
Automatic unique filename generation.
Quickly set output width and height.
Optional post modification window allows you to modify the output before saving.

Other new features:
Added a 'Recent files' menu entry.
Optional (and experimental!) depth-first recursion (using 'set recursion depth'). This can be useful for constructive solid geometry.
Added an application icon.
Support for a new generic 'template' primitive

The template XML syntax has been slightly modified, and is no longer compatible with the previous format:
A new 'description' element has been introduced.
The 'substitution' element is now called 'primitive' (so you need to rename elements of this type).
Added 'defaultExtension' tag (for automatically suggesting file extension).
Added 'runAfter' tag (for setting a default application to spawn).

Binaries for Windows (XP and Vista).
Mac binaries (Universal build).
Linux is still source only, but if you are on Debian or Ubuntu, keep an eye out for the 'structure-synth' package – it will be updated to 1.0 at some point.
UPDATE 11 July: Mac binary now available.