It is always fun to see Structure Synth used in various contexts, so I am happy to see that Julien (Vux) has created a Structure Synth plugin for vvvv. It is a .NET (C#) Assembly wrapping the original C++ Structure Synth code. The license turned out to be a bit tricky, though:
Structure Synth is a GPL licensed application.
This is something I cannot change, because Structure Synth is based on Qt Open Source Edition which requires that the application is GPL'ed.
vvvv on the other hand is a closed source application. The question is whether a closed source application may use an GPL'ed plugin. It turns out that this is a bit fuzzy in the GPL, but as I read the license, an isolated plugin which provides no vital functionality to vvvv should be okay.
Well, enough license talk. Here is the link: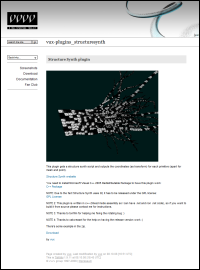 Structure Synth vvvv plugin page

Update: Vux has also made this nice video.